There's plenty to do in Rochester, New York, whether you're a tourist or a local. This upstate New York city offers a little something for everyone, from history buffs and art lovers to outdoor enthusiasts and foodies. Likewise, a tour of this city means staying at a luxurious hotel in a convenient location full of essential amenities.
Hotels with jacuzzi rooms in Rochester, NY, are good for spending time on honeymoon, business travel, or memorable solo trips. You can visit nearby tourist attractions like the George Eastman Museum, the Strong National Museum of Play, and the Rochester Museum & Science Center from these hotels.
The Rochester Philharmonic Orchestra and the Rochester Broadway Theatre League are must-sees for those interested in the arts. And no visit to Rochester would be complete without exploring the city's many parks, including the High Falls and Genesee Riverway.
In this blog, I am presenting to you the seven most popular hotels or motels that offer great hospitality to every guest they receive. You can grab the chance and keep all the hustle and bustle of the stressful life.
7 Hotels with Jacuzzi in Room Rochester NY or Suites
Rochester hotels offer plenty, whether you're looking for a weekend getaway or a week-long vacation. So, start planning your excursion today and see all these vibrant city offers! Here are the details of select hotels featuring bathtubs, showers, or pools.
1. Best Western Palmyra Inn & Suites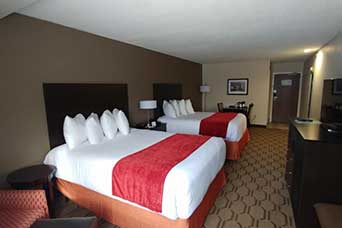 Features:
Pleasant decoration
Express check out
On-site fitness center
Best Western Palmyra Inn & Suites is in Palmyra, a historic district. It is near Finger Lakes Casino, Palmyra Museum, and Lake Ontario. Hence, it can be a good idea to choose among 60 AC rooms of this hotel matching your preferences.
The smoke-free hotel has some notable free amenities like high-speed Wi-Fi and self-parking. The rooms and suites have pleasant decoration, warm tones, and wood furnishings. Guests like you can use a microwave, refrigeration, 43″ LED television, and a coffee maker inside the rooms. Besides, the daily housekeeping, a 24-hour front desk, laundry, and express check-out can make your stay easy and memorable.
Refreshen up your body, mind, and soul by having a cozy bath in the whirlpool suites in Rochester NY. Besides, the on-site fitness center is well-equipped with unique fitness tools which you may love. In the case of business travelers, there are a business center, conference center, and a desk.
2. Woodcliff Hotel and Spa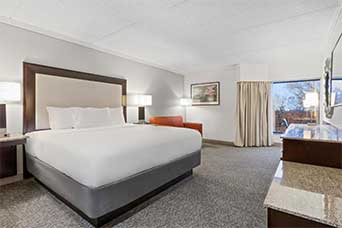 Features:
Spa with 8 treatment rooms
9-hole golf course
Gym with helpful tools
Imagine you are submerged in the tub and having a glass of wine or unwinding with versatile spa and massages. That's what are parts of Woodcliff Hotel and Spa. This Rochester, NY 4-start hotel comes with incredible spa and beauty treatments with a golf course for full enjoyment. While staying at the hotel, you can easily roam Seneca Park Zoo, Geva Theater Center, Wickham Farms, and Rochester Auditorium.
The free internet will allow you to post a status on social sites while parking your vehicle at free valet parking. Therefore, this pet-friendly hotel has 236 luxurious rooms with free American cuisine, a refrigerator, minibar, 32″ TV, coffee maker, microwave, Mp3 docking stations, and more.
All the suites feature a jacuzzi with bathtubs, showers, designer and free toiletries, and hair dryers. You can get massages like hot stone, deep-tissue, sports, Swedish, and therapies like reflexology at 8 diverse treatment rooms. Besides, it has a spa tub and steam room, especially for those searching for Rochester hotels with jacuzzi rooms.
3. School 31 Lofts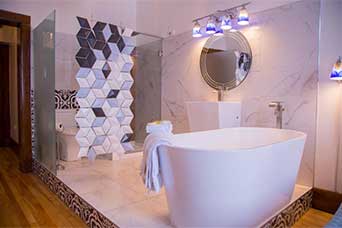 Features:
Sauna
Wedding services
Soundproof, well-furnished rooms
School 31 Lofts at Colors Studios is in Downtown Rochester, close to George Eastman House, the National Museum of Play, and Greater Rochester International Airport. It is famous for in-room jacuzzi suites in Rochester, NY. Thus, this hotel has only 14 air-conditioned suites, spa tubs, and a minibar. One more thing, you can bring your pet cat or dog to this hotel.
Free wireless internet and parking are standard features like most Rochester hotels. Besides, you may find the things like extra-long beds and a fully-equipped kitchen convenient and remarkable. While lying on the bed, you can spend some intimate moments or watch programs on the 60″ flat-screen TV.
Besides the soundproof rooms, there are separate sitting areas and bathrooms with walk-in showers, exclusive toiletries, and hair dryers. You may also spend time in the sauna, a fantastic recreational amenity. Other facilities include a microwave, coffee maker, fridge, oven, ironing board, and minibar. For business explorers, there is a meeting room with full network access.
4. Inn on Broadway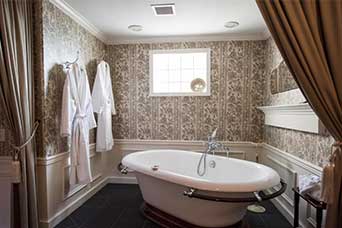 Features:
Baggage storage
Egyptian cotton linens and premium bedding
Banquet for delicious foods
If you are searching for a jacuzzi suite in Rochester, NY, you can certainly book a suite or room at the Inn on Broadway. It is situated in downtown Rochester at a very expedient place. Hence, you can easily drive to this hotel from Greater Rochester International Airport, the University of Rochester, and the East-End Theater District. Park your vehicle for free at the complimentary self-parking area of this hotel.
This 3.5-star boutique hotel has 25 AC rooms with all modern amenities you may love. These rooms have well furnished, including Egyptian cotton linens, down comforters, feather beds, and plush towels. Besides, the whole area is under cover of free speedy internet. Some common features include a 32″ LED TV, coffee maker, velour bathrobes, hair dryers, microwave, and kitchenette.
Health-conscious tourists can hit the fitness center, while commercial persons can use the business center with Wi-Fi access. If you want to eat Rochester foods, there is a banquet, a bar, or a lounge. Some other handy facilities are free desks and phone calls.
5. Best Western PLUS Victor Inn & Suites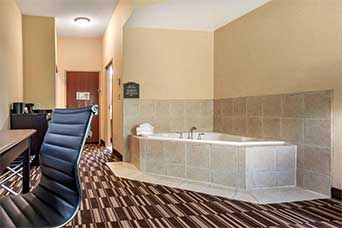 Features:
Bicycle rental
Nightly turndown service
Indoor pool & fitness center
Available at Highway 90, the Best Western Plus Victor Inn & Suites is close to a train station. You can visit Eastview Mall, Pittsford Plaza, and Ravenwood Golf Club by driving a few kilos. Likewise, 71 rooms with an air conditioner, an indoor pool, interconnections, and free internet will be the right one you are looking for.
The smoke-free motel offers free self-parking, buffet breakfast, and premium bedding with Egyptian cotton linens. Moreover, you would love to enjoy extended romantic stays by watching a 32″ LCD TV. For recreational purposes, you can dive into the indoor pool or have a bath in the private jacuzzi with deep soaking bathtubs.
You also get a microwave, refrigerator, complimentary toiletries, and ironing boards to prepare yourself for roaming around. There is a 24-hour gym where you can do some yoga or exercises for fitness purposes. Additionally, any guest for business purposes in Rochester can use the desks, free phone calls, and the business center.
6. Super 8 by Wyndham Henrietta/Rochester Area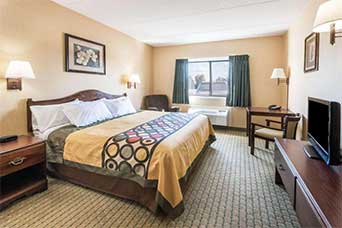 Features:
Budget-friendly
Pets allowed
On-site computer station
Super 8 by Wyndham Henrietta/Rochester is a popular hotel in Rochester. It is on Interstate 390, easily accessible to all Henrietta parks like Tinker Nature Park, Veterans Memorial Park, and Martin Road Park. Thus, the family-friendly motel offers 121 bright rooms with air-conditioning, a work desk, and free internet access.
If you want a honeymoon hotel in Rochester, you should trust the Super 8 hotel. All the rooms are genuinely decorated with classy wood furnishings. Even you get a microwave, refrigerator, coffee maker, and TVs with cable channels.
The 24-hour front desk is aware of the need of its clients. Again, you can use the fax, photocopy, and laundry services. For any computing task, the cottage features an on-site computer station. Also, anyone can avail their free local calls, continental breakfast, and toiletries besides bathing in the in-room bathroom of the suites.
7. Microtel Inn & Suites Chili/Rochester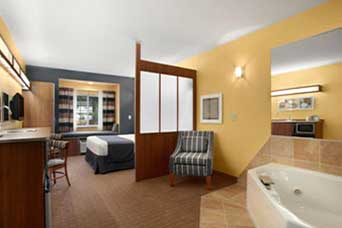 Features:
Pet-friendly
Smoke-free environment
Suitable for family and friends
Microtel Inn & Suites Chili/Rochester is the perfect place to stay while visiting the Rochester area. It is located near many attractions, including the Rochester Institute of Technology, the University of Rochester, and the Genesee River. The hotel is also close to many restaurants and shopping options.
All the 50 rooms at this hotel are clean and comfortable, and the staff is friendly and helpful. Anyone can go online within moments using the free Wi-Fi. Besides, the on-the-go breakfast and self-parking will keep you worry-free to start the day. Some exclusive amenities of the hotel rooms are an LCD television, freezer, coffee maker, and safe.
You and your beloved together can warm up at the fitness center. After that, the bathrooms with showers and bathtubs will give you some starry-eyed moments. Even some select rooms feature spa baths for more recreation. If you are in Rochester for business purposes, you can use the 24-hour business center, computer station, fax, and free local calls.
Frequently Asked Questions
How much is a Rochester Hotels with Jacuzzi?
On average, you may find Rochester hotels with jacuzzi rooms at $120 per night. It varies depending on the season, location, and facilities.
How do I find quality Hotels?
You can find Rochester Hotels with Jacuzzi by searching for "Rochester Hotels with Jacuzzi" or "Rochester Jacuzzi Hotels" online.
How do I book hotels with a private jacuzzi in a room in Rochester NY?
Most hotels have their direct contact number or email on their websites. You may talk to them directly for better clarity.
Final Verdict
Are you looking for a romantic getaway or just a relaxing weekend?
You may hardly find alternatives to these seven Rochester hotels with many facilities. Choosing one of them can be the perfect place to unwind, from luxurious suites to cozy cottages.
So, sit by, unwind, and enjoy the atmosphere at one of these top Rochester hotels with jacuzzi in room Rochester NY.