A beautiful serene lake, exquisite natural views, and a cozy aura make Erie seem like a place with love in the air. Are you planning to dive into the gorgeous wonders of nature in Erie with your beloved?
You shouldn't wait at all! But wait a minute, you can't seem to find a suitable hotel to stay in with an ambiance as romantic as Erie itself? That's okay; I got it covered for you with our list of 9 hotels in Erie with hot tubs in rooms or Jacuzzi suites.
These places will not only allow you to have a comfortable stay. Still, they will also let you explore the nearby wonders and beautiful attractions, starting from botanical gardens and parks to exciting museums and art galleries. Altogether perfect for your romantic getaways in Erie, PA!
Come on! Let's get you to the perfect place.
9 Erie Pa Hotels With Jacuzzi Suites
1. Sheraton Erie Bayfront Hotel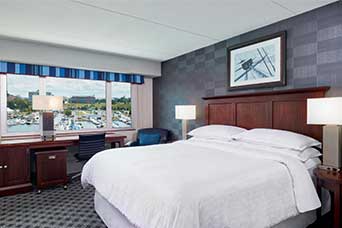 Features:
Bay view from the suite
Pet-friendly rooms
In-site restaurant
Private Jacuzzi in-suite and a hotel pool
For the remarkable list of hotels with Jacuzzi suites in Erie, Pennsylvania chosen only for you, I've picked the Sheraton Bayfront as the first one because of its sophisticated decor and gorgeous views.
The hotel is located on the Presque Isle Bay, offering the most beautiful bay views from the vast windows of every room! It also features pet-friendly accommodations, an inside restaurant, and of course, room service who are on its toes to help the visitors at all times.
Their King size room with a marina view is what particularly attracted me. A stay in the room with your loved one is enough to make you forget about your daily life commotions. The room offers you a nice bath with bathrobes, coffee makers, a Jacuzzi in the suite, and all-time access to the hotel pool.
As per my experience, the hotel service was terrific, offering a warm greeting and always being there to help me throughout my stay at their hotel, which has earned them a 9.4 from me!
2. Cobblestone Hotel & Suites – Erie
Located at the north of Interstate 90, adjacent to the bay, the Cobblestone Hotel & Suites in Erie has earned special recognition from me due to the location.
All the popular attractions and necessary facilities are near the hotel, from the International Airport of Erie, the Erie Amtrak, UPMC Hamot, and the Mercyhurst University to the Warner Theatre, Erie Maritime Museum, Erie Zoo, and whatnot! The stay at the hotel comes with unique amenities like vending machines, a fitness centre, delicious complements breakfast every day, an indoor pool, an onsite bar, and a lot more which you need to check out yourselves!
I loved my weekend stay at their King suite with a hot tub that has a private hot tub in the bedroom, a microwave, a refrigerator, and even a kitchenette besides the astonishing modern-day decor.
Trust me, and try out the hotel; if you're looking forward to a trip to Erie with your partner, you'll love it. No wonder how it got a solid rating of 9 from the visitors!
3. Courtyard by Marriott Erie Bayfront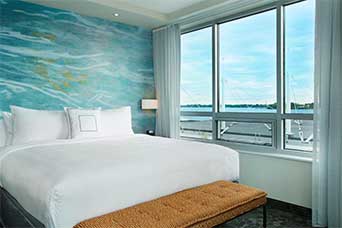 Features:
Free airport shuttle
Close to the Erie beach
Sun terrace and in-house pools
Suite with private hot tub and kitchenette
The Courtyard by Marriott Erie Bayfront is located within a 1.8 miles distance from the Erie beach. It is a three-star hotel with the opportunity to pass their vacation in a jolly mood.
The explorable nearby attractions include the Erie Maritime beach, the Bayfront Convention center, and the Port Erie Bicentennial Tower. The Erie International Airport is also nearby, with a free airport shuttle service offered by the hotel itself.
Besides, the in-house accommodates facilities like both an outdoor and indoor pool, a restaurant, a fitness centre, and surprisingly a sun terrace! I instantly fell in love with the hotel as I stepped into it, especially the King room. It has elegant decor, a desk, premium linen bedding, a private hot tub, a kitchenette, and so much more.
With a rating of 9.7, I promise you wouldn't be disappointed with your stay at the hotel if you're looking for a quality romantic escape with your partner.
4. Spencer House Bed and Breakfast
Features:
Victorian mansion with historical location
Interesting surroundings to explore
Indoor solarium and pool
Bathroom with Jacuzzi for two
The Spencer House Bed and Breakfast are located at the heart of the Millionaires Raw, taking you back to its unforgettable history. A little walk from Erie takes you to this breathtaking place.
It is no ordinary modern-day hotel; it is rather an extravagant Victorian mansion with sculpted Victorian decor, light medallions, 12-foot ceilings, and handcrafted hardwood mouldings all around the house. Not only is the decoration worthy of praise, but so are the facilities like freshly made home-cooked breakfast, fruits, vegetables, groceries, and cinnamon chip pancakes.
If you want to enjoy some adventure, you can go hiking, cycling, or even skiing nearby. Besides, exquisite locations like the St. Patrick church and the Warner theatre are right there. And then, if you get tired and look for unwinding, their indoor solarium, porch, library, or pool is perfect.
Although I wish I could stay there for longer, my two-day trip staying in their King room with a Jacuzzi will always be a memorable timeframe for me. The room has a large bathroom with a Jacuzzi for two, bathrobes, a hairdryer, and actual history attached to every room!
There can not be a better place to relax your soul than this earning it a rightful 10/10!
5. Wingate by Wyndham Erie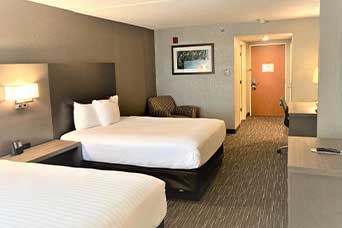 Features:
Adjacent to Water park and other exciting spots
Complimentary buffet breakfast
In-house Sundry shop
Suite with hot tub
Located within reach of well-known shops, restaurants, and visiting spots, the International Airport of Erie, the Wingate by Wyndham, is a top-notch place to stay for the two unwinding in love and comfort.
You would be delighted to know the Splash Lagoon Indoor Waterpark is only within 500m distance from the hotel. Besides, you have the Lake Erie Speedway, the Watson Curtz Museum, and the Erie Zoo all nearby.
The hotel has amenities like an indoor pool, a fitness center, a complimentary breakfast buffet served every morning, a sundry shop, and a business center to ensure your full comfort.
As I've been looking at the reviews, the King suite with a private hot tub has been listed as a favorite to many couples. The room has a coffee machine, a bath or shower, a microwave, and a hot tub to relax you to the core.
All the nearby attractions offer you an adventurous day and later a soothing time in the tub with your partner to complete your day; hence, rating the hotel a solid 9!
6. Hilton Garden Inn Erie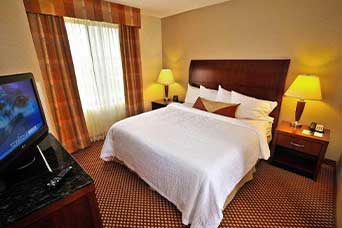 Features:
Free airport shuttle service
Nearby to Casino, water park, and spa
Premium restaurant on-site
Suite with private whirlpool and sofa beds
Only 12.9 km from the Erie International Airport, the Hilton Garden Inn comes with all the excitement, comfort, relaxation, and adventure within your reach. Mention, the hotel offers a free airport shuttle service as well.
The Ambassador Banquet & Conference is adjacent to the hotel, along with the Splash Lagoon, Presque Isle Downs & Casino, and Millcreek Mall, all being nearby to suffice you with enough places to explore.
For in-house amusement, the hotel features an indoor pool, a fitness center, a full-service restaurant, the Safari Grille for breakfast, lunch, and dinner services, and so on. Besides, for unwinding in a spa, the Peek n' Peak Spa is within 30 minutes driving distance.
If you want an unforgettable stay at the hotel, stay in their King Room with a private whirlpool to drown your troubles, sofa beds, a microwave, a refrigerator, and a Garden Sleep System King bed for a goodnight's sleep.
All these amenities earn the hotel an excellent 8.8 rating.
7. Country Inn & Suites by Radisson, Erie, PA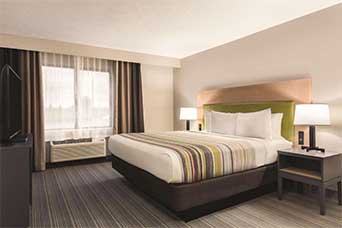 Features:
Nearby fascinating attractions
'Grab and Go' breakfast
Tropical pool and marine view
Suite with hot tub
The Country Inn & Suites by Radisson locates off of Interstate 90, right beside the Splash Lagoon Indoor Waterpark Resort is one of my favorites in Erie.
Besides the waterpark, the lake Erie beaches, Presque Isle Downs & Casino horse race track, all the famous universities, the UPMC hospital, the Erie Zoo, and Bayfront Convention center, everything is close by, making the hotel almost like the center of Erie.
It offers the utmost convenience to the customers in the hotel. It has extraordinary amenities like free 'Grab n Go' breakfast, free airport transport, catering with a variety of delicious meals, a tropical pool, and a conference center.
All of their suites come with plenty of facilities. Still, the King room offers the maximum satisfaction with an in-room bathtub, a microwave, a refrigerator, and beautiful views of the marine.
For a two-person romantic trip, the hotel deserves no less than an 8.7.
8. Cobblestone Hotels & Suites – Harborcreek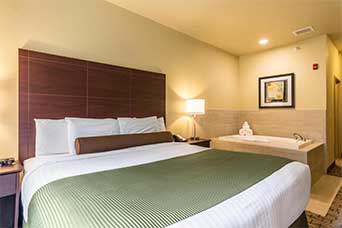 Features:
Center to popular attractions
Wolfgang Puck coffee service
Indoor pool and bar
Suite with hot tub
Located off of Interstate 90 and very close to Erie, Pennsylvania, Cobblestone Hotel & Suites is another gem of a place for spending a wonderful time with the person you love.
The Erie Maritine Museum, Presque Isle beach, Lake Erie Speedway, and the Penn State Behrend University are all at close distance to keep you busy the whole day. To offer a relaxing stay at the romantic hotel at Erie, PA, it comes with an indoor swimming pool, an onsite bar, Wolfgang Puck coffee access, a fitness centre, and a complimentary breakfast to serve your appetite.
After a whole day of excitement, staying in their Deluxe King room with a hot tub allows you to find comfort for your soul. Besides, it has other necessary facilities like a bathroom with bathrobes, a refrigerator, a hairdryer, and lots more to look forward to!
Nonetheless, the hotel has effortlessly achieved an 8.5 rating from couples loving memories they made at the hotel. This might be your time to do the same too!
9. La Quinta by Wyndham Erie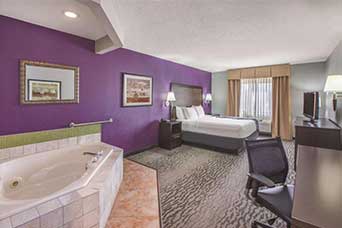 Features:
Close by attractions and fun spots
Continental breakfast
Indoor pool and bar
Suite with whirlpool
If you are more into posh contemporary Erie hotels with Jacuzzi, then this is for you, the La Quinta by Wyndham in Erie, located only 9.9 miles from the Erie International Airport.
You can explore the surrounding areas like the Erie lake, Botanical gardens, the Erie Maritime Museum, Erie Zoo, Splash Lagoon waterpark for a fun trip and so on. However, what makes the hotel different from others close by are the in-house facilities like a continental breakfast, the indoor pool, pet-friendly rooms, the in-house bar, elegant furnishings, and gladly similar arrangements for disabled guests as well!
I'd suggest staying at their Deluxe King Room with a private whirlpool tub for unwinding, excellent room service, and the usual arrangements.
Your stay at the hotel will be just like you wanted. And like me, you wouldn't be able to rate it less than a smooth 8.5 for a couple's trip. Try it yourself!
FAQs
What are some guests' favorite hot tub hotels in Erie?
Among the guests' favorites, the Hilton Garden Inn, Courtyard by Marriott, and Spencer House Bed & Breakfast are some of the highest-rated ones.
How much do hotels with hot tubs or Jacuzzi suites in Erie cost?
Hotels with hot tubs or Jacuzzi suites in Erie although classy, have an affordable price range from $122 to $250 per night.
Do any suite hotels with hot tubs in Erie include a pool?
Although Erie hotels are right beside or close to the Erie lake, all the hotels enlisted above come with indoor pool facilities with top-tier ratings.
Verdict
If you are on the quest for finding the perfect Erie, PA hotels with Jacuzzi suites, then this list of the nicest hotels will probably quench your thirst.
Finding the perfect match among the best hotels will take you one step closer to your dream holiday to Erie, Pennsylvania with your beloved. Here, you can spend some time roaming around the beauties of Erie and drowning your stress in the Jacuzzis of your hotel suites.
It's time to stop dreaming, take a break from the daily buzz of life, and make your dream turn into reality. Surprise your frustrated partner with tickets of Erie and bookings at one of these exquisite hotels to grow back the lost love. Hurry up before the hotels are all booked!